Did you know that you can effortlessly help yourself (a lot) to treat your back and lower back pain? You will be at home, you will be comfortable and calm, and it will not take much of your time. Up to seven minutes a day, 3 to five times a week will be enough to feel the difference.
Gravity will do the work for you, you will just be using it. We are talking about inversion therapy and more precisely – about Teeter inversion tables. They have already helped millions of people who have had back and lower back problems. They are helping now, and will help millions more, because back and lower back pain are quite common.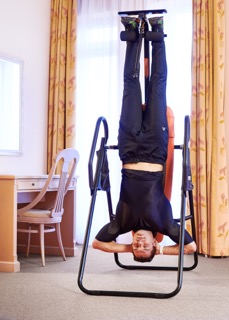 Ask your doctor if you can use Teeter inversion tables for exercises for back and lower back pain. If you are not prohibited from on hanging upside down or lying at an angle due to an illness, use the inversion tables.
An inversion table is a fitness device with different capabilities. You can just lie at an angle you set – 20, 40, or 60 degrees. It allows controlled rocking; you can turn your body upside down; or you can do more intense workouts – abdominal presses, squats, or standing up. With all this, the beneficial effects started at an angle of 20 degrees!
The essence of inverse therapy is that it relieves tension in the back and waist, and helps to restore the discs and joints. Therefore, it is useful in the treatment of back and lower back pain. Also, the exercises with the Teeter inversion tables strengthen the basic muscles – you become more flexible, allowing for a more active, full life. Another part of the overall effect is stress reduction.
Teeter inversion tables are useful for successfully fighting against discopathy and also in the treatment of stenosis. In practice, this is a natural, home solution for stretching, and sports, for a healthier back and a stronger body in general.
The inversion table model EP-950 Ltd comes with a disc for assembly and use, which includes stretching tips and exercises. There is also a CD with a visual lesson for healthy back practices. You can download the user manual and installation instructions from the Teeter site.
The inversion tables themselves are easy to use. Firstly, they come to you almost 90% assembled, and completing the assembly does not take more than 15 minutes. Secondly, after use, a Teeter inversion table folds in seconds to a very compact size – 71 by 41 by 168 centimeters and this allows it to easily fit into almost any storage space. Using it, as we mentioned, is also easy – it allows you to get benefits even without effort!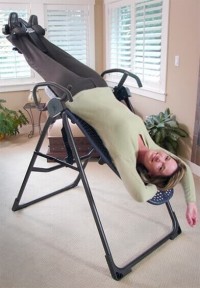 The inversion table model EP-950 Ltd is suitable for a wide range of users including those weighing up to 135 kilograms and with a height from 1.46 to 2 meters! It has a full 5-year warranty for all components.
Ensure effective treatment of back or lower back pain: trust the world-leading brand – Teeter! It is the only company that has been producing inversion equipment without interruption since 1981.
Teeter is a market leader in quality, producing inverse equipment for home, clinical centers and gyms.
Take advantage, too!