Back and lower back pain are common, but also often overlooked. They happen for various reasons, so we easily find an explanation / excuse not to go to the doctor.

We tell ourselves that we have either "strained ourselves" during the repairs at home, or work in the yard, or we have stayed for a long time in an unchanged position while driving, leaning over the desk, or standing by the assembly line, or we have lifted something heavy, etc. 
Until it turns out that they were a signal of an insidious disease. Then our life becomes a nightmare. We can literally become numb, immobilized by the pain, and feel weakened and depressed.
In this situation, we need to seek appropriate treatment for back and lower back pain, which might now even require surgery.
Whatever the cause, especially if the pain occurs periodically, you should consult your doctor without delay.
If he prescribes treatment, ask him if you can use Teeter inversion tables. They are very suitable for exercises for back and lower back pain.
You need to find out from the doctor if you have any contraindications to inversion therapy – hanging upside down or lying at an angle. If you do not have a health problem that is holding you back, take advantage of the EP-950TM  inversion table.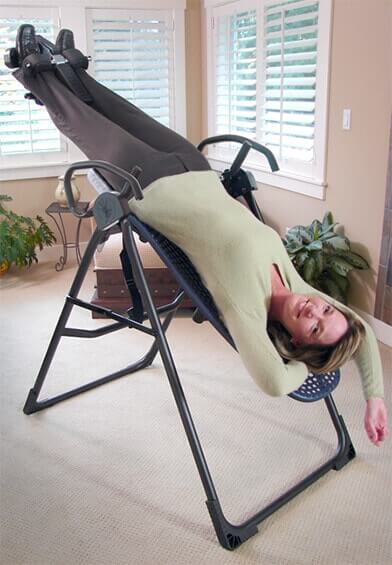 It is a fitness device for home use. It allows you to do both passive and active exercises. You can simply relax lying at an angle of 20.40 or 60 degrees, or completely turn your body upside down.
The inversion table is precisely balanced and gives you complete control. The special handles allow for periodic rocking and stretching. There are also larger, support handles that help you turn your body upside down.
You can also do active exercises – standing up, squats, abdominal presses, which further help to strengthen muscles and increase flexibility for a healthy back and a strong body.
Teeter inversion tables are useful in the treatment of stenosis, and also help with discopathy. With them, you will find natural relief quickly. It is enough to use them for five to seven minutes a day, 3-5 times a week.
The principle is to relieve tension in the back and waist and to help renew the discs and joints.
The positive effect begins at an angle of less than 20 degrees. At 60 degrees, the tension in the back and waist is completely removed. You set the angles. Turning upside down gives more freedom of movement for sports and stretching.
Teeter inversion tables are easy to install – they come to you almost 90 percent assembled. There is a guide that you can download in advance from www.lejanki.bg. There is also a CD with tutorials on how to use them. The inversion tables fold in seconds. They come with a full warranty – covering all components for five years.
The inversion table model EP-950TM is for a very wide range of users. They can be from 1.46 to 2 meters tall and weigh up to 135 kilograms.
And one more bit of information – the manufacturer of the inversion tables, the Teeter company, is the only one that has been producing inversion equipment without interruption since 1981. It is a leader in the industry, producing inversion products for home use, as well as for clinical centers and gyms.
Just trust the leader.