Herniated disc is a disease that affects a very large part of the world's population. The factors that can lead to the appearance of discopathy can be extremely many and even worse is that no one is protected from the appearance of this disease.
That is why neurologists, orthopedists, and physiotherapists advise you to visit a doctor and start active treatment at the first symptoms. Because if the disease is "caught" at the very beginning, the probability of it being completely cured and without the need for surgery is very high.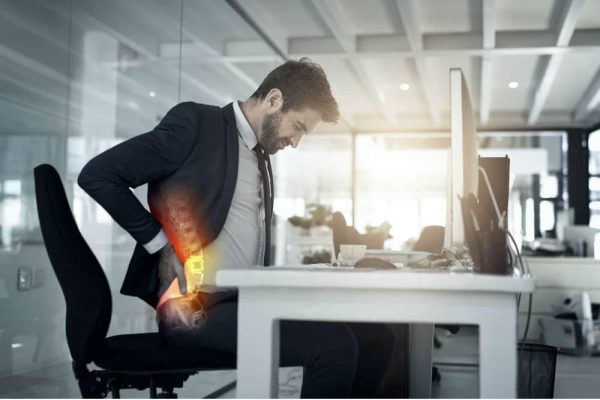 Treatment of discopathy
If a disc herniation is diagnosed early, it can be treated with conservative therapy. This means that with proper exercises, physiotherapy, and taking non-steroidal or steroidal oral medications, the pain can be reduced and even completely eliminated.
Sometimes, however, the pain is so severe or persistent that oral medications and ointments do not help, and then it is necessary to switch to a course of treatment by injection to improve discopathy.
And here comes the question that everyone who suffers from a herniated disc asks: "Do injections really help reduce pain and what are the types of injections that are given?"
Injections for discopathy and their effectiveness
Several groups of drugs are prescribed for the treatment of disc herniation, and each group is prescribed for treatment by a specialist who takes into account both the patient's condition and his specific characteristics. The prescribed injections for discopathy can be given as a stand-alone course of treatment or as part of therapy.
Non-steroidal injections
If the disease is diagnosed at an early stage, nonsteroidal injections are usually prescribed. They quickly relieve pain and inflammation as well as reduce swelling, but they do not affect the cause of the disease. Such non-steroidal injections are:
Diclofenac – quickly relieves pain and does not have many side effects;

Ketoprofen, Ketorol, Dexalgin – this generation of non-steroidal injections is effective only for mild pain and does not help with severe pain;

Movalis and Celebrex – quickly relieve pain and reduce swelling;

Ibuprofen – brings quick pain relief and reduces inflammation and swelling.
The course of treatment with nonsteroidal anti-inflammatory injections is not carried out for a long time, as they have a lot of negative side effects. Usually therapy with this type of injection is only for a few days, after which experts advise switching to oral medication, in combination with appropriate physiotherapy or special exercises to strengthen the back and lower back.
NSAIDs cannot be bought without a prescription.
Steroid injections
If nonsteroidal anti-inflammatory injections for discopathy have not given the expected result and the pain continues to be severe, then doctors recommend steroid anti-inflammatory injections. They also have anti-inflammatory and analgesic properties, but are more powerful and effective than NSAIDs. The advantage of steroid injections is that they not only relieve pain, but also relieve the symptoms of inflammation and reduce swelling.
The most commonly prescribed steroid injections for discopathy are
Prednisolone

Betamethasone

Triamcinolone

Dexamethasone
Steroid injections, like non-steroidal ones, are given for no more than 5 days, after which you should switch to oral medications and exercise. Although they are quite effective in severe pain, this type of injection has many side effects such as the body's addiction to the action of the drug, and with prolonged use they can cause damage to cartilage tissue.
In addition, this type of injection is contraindicated for people suffering from diabetes, ulcers, tuberculosis, and several other conditions. Due to its many side effects, this type of injection is prescribed by doctors in rare cases.
Steroid anti-inflammatory injections cannot be purchased without a prescription.
Sometimes the severe pain caused by discopathy causes muscle spasms around the spine. In such cases, injections called muscle relaxants are prescribed, which stimulate muscle relaxation and improve blood circulation in the tissues.
The most commonly used muscle relaxants are
Mydocalm

Sirdalud

Baclofen

Tizanidine

Dithylin

Others.
Muscle relaxants have a very fast action (relief can be felt between 5 and 10 minutes after the injection for discopathy), but as with other types of injections, the use of muscle relaxants is for a short period of time, as they have a long list from unwanted side effects.
Chondoprotectors
In the treatment of disc herniation, a lot of attention is paid to this group of injections, because they not only reduce pain, but also contribute to the regeneration of bone and cartilage tissue of the intervertebral discs. Of course, complete remission cannot be achieved with chondroprotectors alone, but partial regeneration is possible.
The most commonly used chondroprotectors in the form of injections are
Chondrogard

Dona

Alflutop

Rumalon

Elbona

Други
The injections are given directly into the muscles located near the localized hernia.
Cannot be purchased without a prescription.
Epidural injections
Epidural injections are given only in cases where the pain is very severe and the patient can no longer tolerate it, and all other courses of treatment have not worked. This type of injection is given directly into the intervertebral region of the affected area and is only given by qualified medical personnel.
Among the most commonly prescribed epidural blockades are Novocaine and Lidocaine, which are not available without a prescription.
The benefits of epidural injections are as follows:
Thanks to the direct injection of the drug in the affected area, a quick and maximum effect is achieved, in which the pain is removed in a very short time, the swelling is reduced, and the inflammation disappears;

Unlike other types of injections, epidurals have almost no side effects.
The so-called epidural block is a complex intervention that requires anesthesia and requires a lot of experience and attention when placing the epidural injection.
These are the main types of injections for discopathy, which are given according to the stage of the disease. Are they effective? In a large percentage of cases, they can reduce pain and swelling, but only can be used for a very short period of time, as they have many side effects.
Before deciding on such a course of treatment, carefully inform yourself about the side effects, as well as about the diseases in which the administration of injections for discopathy is not recommended.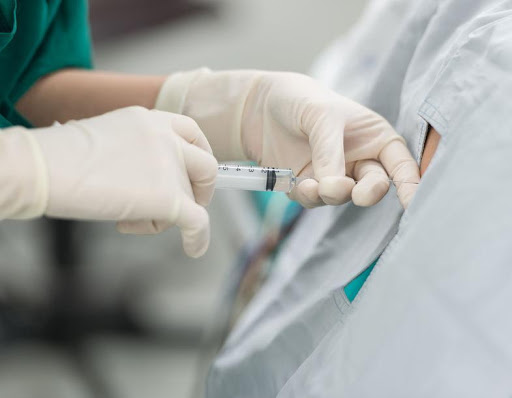 Какво съветват невролозите и физиотерапевтите?
За да не стига до прилагане на инжекции е много важно още при първите симптоми да се посети специализиран кабинет, за да бъде установено коя е засегната област, на какъв етап е заболяването и какви мерки да бъдат предприети за лечение.
Добре би било, ако освен медикаментите, които лекарят предпише да се правят упражнения за дископатия. Упражненията могат да се правят както самостоятелно с лежанки например, така и с физиотерапевт, който да наблюдава пациента по време на лечението.
What do neurologists and physiotherapists advise?
In order to avoid injections, it is very important to visit a specialist at the first symptoms to find out which area is affected, at what stage the disease is, and what measures should be taken for treatment.
It would be good if, in addition to the medication that the doctor prescribes, exercises for discopathy are performed. Exercises can be done either alone with inversion table, for example, or with a physiotherapist to monitor the patient during treatment.
What should you not do if you have disc herniation pain?
Do not prescribe treatment yourself. (The Internet is as useful for getting information as it can be harmful, especially when it comes to treating diseases such as herniated discs).

Trying to give yourself the injection or asking your loved one to give it;

Use your loved one's prescription medications that he or she claims have helped. This is extremely dangerous, as these injections or oral medications may have helped your loved one, but your problem may be very different and require different treatment;

Exercise before consulting a physiotherapist;

Although we mentioned that exercise is very useful, never exercise if you have severe pain. In these cases, the pain must first subside and only then can you start exercising.

Do not try to buy injections for discopathy without a prescription.
Read also Discopathy Injection – Part I.